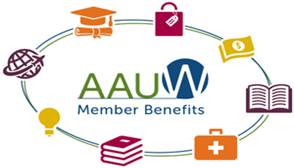 Membership with AAUW means you're part of a community dedicated to changing the climate for women and girls. It also means you have access to some great discounts and special services exclusively offered to members.
AAUW's member benefits can enhance your professional and personal life and will save you money along the way! Most important, every time you use one of your benefits, you are also supporting AAUW's vital work, which is what makes AAUW one of the nation's most powerful voices on women's issues.
With each purchase, AAUW receives a royalty that is used to support the work we do, including our equal pay advocacy, community programs, leadership development tools, student leadership conference, and so much more!
Not a member? Since our first meeting in 1881, AAUW has been a catalyst for change and improving women's lives. Find out how you can become part of this rich legacy and ensure our future.  Contact the Capital Branch (NV) at aauwcapbr@gmail.com.
Reprinted from  https://www.aauw.org/membership/benefits/