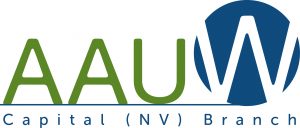 American Association of University Women (AAUW) is a nationwide network of more than 100,000 members and donors, 1,000 branches and 800 college/university institutional partners.
AAUW Capital Branch has a dynamic collection of women who are involved in the community through a variety of support  and social activities.
The Nevada Secretary of State has created a list of processes, facts, and myths about our 2020 General Election.  View all 17 at:
https://sondracosgrove.files.wordpress.com/2020/08/factsvsmyth_2020generalele-2.pdf
For all information about the 2020 General Election visit the website of the Nevada Secretary of State.
Why Do You Vote?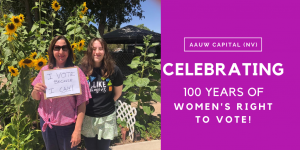 We have an exciting and positive summer project for you! AAUW Capital Branch is encouraging participation in the Commission for Women "Register to Vote" online campaign. This project fits our policy goals. It's fun. It's positive. It encourages voter participation and it's non-partisan. We can reach the community from the comfort of our homes because it can be easily shared on all social media sites and through personal emails. You can have your friends participate. The objective is to excite people about voting. And it makes you think about "why you vote".
If you decide to join this campaign described below, please write your message, take a picture of your message, preferably with your picture, and send to Jennifer or Kathy at aauwcapbr@gmail.com. They will enhance your message with a beautiful background. They will post your message on our AAUW Facebook.  All you have to do is make a sign about why you vote and take a picture of yourself holding your message. Don't you want to help spread the excitement?
I vote to keep my freedoms and make democracy work
I vote to protect my grandchildren's future
I vote to protect the environment and the health of our world
I vote to elect candidates of high moral character and good intentions.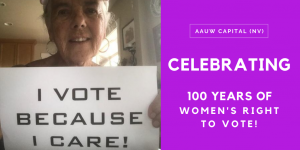 Why Do You Vote?  Let us know!