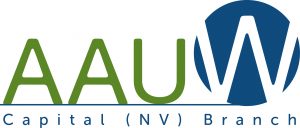 American Association of University Women (AAUW) is a nationwide network of more than 100,000 members and donors, 1,000 branches and 800 college/university institutional partners.
AAUW Capital Branch has a dynamic collection of women who are involved in the community through a variety of support  and social activities.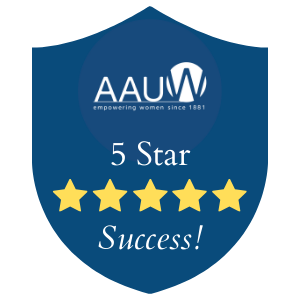 Dear AAUW Capital (NV) Branch,
We hope you all are staying safe and healthy during these unprecedented times. We at the National office are sending all our best as we continue to navigate the COVID-19 crisis.
We wanted to share some happy news with you: Your branch achieved all five stars in the Five Star Recognition Program. You have officially crossed the finish line as our third branch to receive all five stars across the entire AAUW membership network. You should be incredibly proud of this achievement!
Your letters of recognition are attached as well as your Five Star Achievement Badge for your website.  We also look forward to featuring your Five Star Success story in our June Membership Matters newsletter. I'll follow-up soon with more information on drafting your story.
Thank you for participating in the Five Star Recognition Program, and our sincere congratulations again on this incredible achievement!
Best Regards,
Nichia
Nichia P. McFarlane
Engagement Associate, Advancement & Partnerships
AAUW, 1310 L Street NW, Washington, DC 20005-4113
202.728.7633. | www.aauw.org
Facebook | Twitter | Instagram | LinkedIn
March 24, 2020
Dear AAUW Capital,
Thank you for your participation in the Five Star Recognition Program. After reviewing your
submission, we are pleased to inform you that your branch received a star for Programs.
Branches like yours are why AAUW can extend its reach to impact change nationally. With your
programs and other activities, you've demonstrated the strength of local engagement to educate and mobilize people for change. You've shown the value in mapping resources that help your branch influence conversations about justice. Your work in your hometown, in your home state defines what it means to be a good neighbor.
We appreciate your hard work and unwavering support of AAUW's vital mission to advance
gender equity. We hope you'll continue to be leading voices for equality in your community into
the future.
Congratulations on your success in the Five Star Recognition Program!
Sincerely,
Kendra L. Davis
Senior Vice President, Advancement and Partnerships
_______________________________________________________________________________________________________________
January 27, 2020
Dear AAUW  Capital Branch,
Thank you for your participation in the Five Star Recognition Program. After reviewing your submission, we are pleased to inform you that AAUW Capital has received a star for
Communications and External Relations!
We envision a bold future for AAUW that includes using technology to promote initiatives, share ideas, and build community with our members and allies. Your website exemplifies the value of technology in the fight for gender equity.
AAUW has made groundbreaking progress for gender equity through our training programs,
impactful research, and bold advocacy efforts. This could not be achieved without the dedicated
support of our members. With our continued partnership we will lay the groundwork for the next generation of women leaders.
Congratulations and we look forward to your continued success in the Five Star Recognition
Program.
Sincerely,
Kendra L. Davis
Senior Vice President, Advancement and Partnerships