Many Capital Branch members enjoy participating in organized Interest Groups. Besides the opportunity to interact with educated, active women who support our mission, Interest Groups provide the added opportunity to meet with others who share individual interests.  Branch members have many and varied interests.  Presently these groups meet on a regular basis via Zoom due to the current COVID restrictions.
Book Discussion Groups:   An Evening Book Group  An Evening Book Group meets the third Thursday of each month at 6:30 PM.  For the winter, meetings will be held over Zoom.  A variety of fiction and nonfiction books is chosen at the September meeting, and a published schedule for the year is then available.
 An Afternoon Book Group meets monthly on the third Friday at 2:00 PM. This group discusses a variety of books, a separate list from the evening group. Branch members may attend both.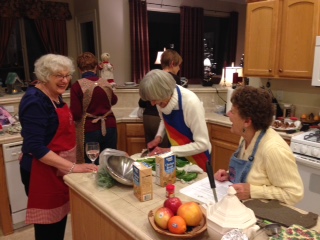 Gourmet Group: For members who enjoy cooking and eating there is a Gourmet Group. A variety of menus are planned. Meeting times vary. Gourmet Cooking Group is temporarily suspended due to COVID. This group will resume when it is safe to do so.
Great Decisions   Stimulating!  Lively!  Educational!   Would you like to discuss world affairs?  Would you like to know more about the foreign policy of the United States?  Do you have an interest in international issues?  The Great Decisions group is the place for you!  Together, we share a common concern about the place of the U.S. in the larger world.  A discussion guide and video presentation developed annually by The Foreign Policy Association are used as resources to help inform member discussions.
Knitting Group  The Knitters' group meets in the afternoon on the second and fourth Tuesday of each month in a member's home.  This collegial group welcomes knitters of all skill levels including those beginners interested in learning.   We include a charity component, asking each member to complete one project each year for the charity of their choice.  Meetings temporarily suspended due to COVID.
Capital Hikers   The hiking group, called the Capital Hikers, was started when the emerging pandemic made in person meetings unsafe. Once or twice a month the leaders, Stephanie Facchini and Barbara Kuehner, schedule hikes in the area. Hike information is published in the AAUW newsletter. Please let one of the leaders know if you plan to attend. COVID-19 hiking protocols apply. New hikers are always welcome.