Thanks to the generous Carson City community which supported the American Association of University (AAUW), Capital Branch in our annual fundraisers (the holiday pecan sales and the February Feast of Chocolate), this year the Branch has awarded two $1000 scholarships to exceptionally deserving young females who intend to attend UNR in the fall.  An additional $1000 scholarship will be awarded to a WNC student in the fall.
Katherine Darragh, a Dayton High School graduate, plans to study to achieve a doctorate in Behavioral Psychology.  She desires to specialize in trauma and its affects on communities, and then work towards a solution.
Hannah Hope Hodorowicz is the Carson High School recipient.  Her goal is to pursue a career in the medical field, though she has not determined what branch that might be.  She will be exploring her options at UNR.
We congratulate these talented and ambitious young women and wish them well in their college careers and beyond.
AAUW is a national organization whose mission is to advance gender equity for women and girls through research, education, and advocacy. For further information about the Capital Branch, please visit our website at https://capital-nv.aauw.net/.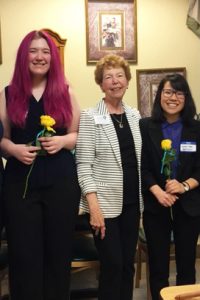 Karen Darragh (left) and Hannah Hope Hodorowicz (right) with Caroline Punches, President, AAUW Capital Branch, at the Scholarship Awards Luncheon